I had the good fortune to spend this past Saturday up in Cass County with some landowners and co-enablers in this project of locating any remains of Trammel's Trace.
As you might imagine, locating a 200-year old road is not an easy task, but using a combination of original land surveys, a variety of maps and images, some very neat software and educated guessing, it is possible to develop some ideas worth pursuing. "Ground-truthing" a few of those ideas was the focus of last Saturday's field work near Cornett, north of Hughes Springs. So in the drizzling rain, with socks wet from crossing the soggy creek bottom, we were all out there with various GPS devices and mapping tools working to connect the dots from that spot to the known crossings both north and south of there. The pictures below tell a bit of the story.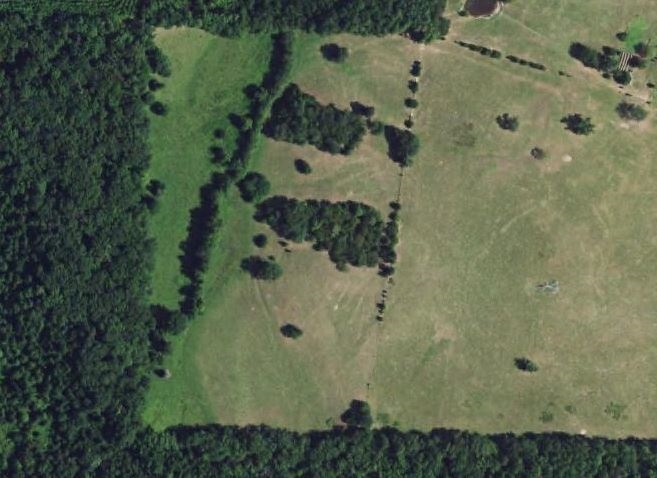 The trip was initiated as a result of some communications with a landowner in the area. He had done some pretty extensive research on his own so had a good idea there was a chance the Trace was in his general area. He found me through this website and we started communicating. Most landowners will perhaps have heard of Trammel's Trace from older generations, but have little other factual information and hardly any technical data.
So as you can see from the pictures, with some preliminary work and study, the investigation on the ground confirms as best we can that Trammel's Trace crosses this owner's land. Though that is interesting in terms of confirming some historical curiosities, this project is really about the landowners. They (you!) are the ones who will preserve this history, and these particular landowners are very aware of that.
I horrify my mother in speeches sometimes by saying that I got interested in Trammel's Trace when I realized that Davy Crockett may have had a "rest stop" at one of the trees on our property. So when I threw that line out to the landowner's young son, it had the predictable response. So what makes it ALL worthwhile is getting an email like this back from the landowner after our visit.
Thank you - I can't tell you how incredible the family thinks this information is. The next day the kids insisted on going to look. Even at their age they know the name "Davy Crockett." Can't wait for your book!
That is what it's all about. Making history something tangible and present. So only about 150 more miles of old road to find and we'll be done.